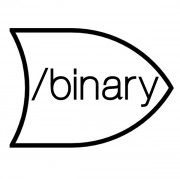 Smart Crowdfunding is slated to carry out strategic marketing initiatives for the 'Binary' crowdfunding campaign on Indiegogo. The Binary team is crowdfunding to bring their innovative USB multi-tool to market.
San Francisco, California, September 23, 2014 (Newswire.com) - Binary is being introduced to the public via an Indiegogo crowdfunding campaign which was launched on September 6th. This campaign has a funding goal of $50,000, which needs to be raised by October 21st in order to begin production of the Binary.  The Binary USB multi-tool is essentially a "USB flash drive with expandable memory coupled with a flexible data cable in a sleek, portable package" that can also charge your phone, sync all of your devices and has a built in micro SD memory card reader.  The makers of Binary saw a need in the market, and decided to do something about it. "With digital media on the rise, everyone's need for memory is increasing. With cloud storage being highly dependent on internet connectivity and high data usage costs, increasing the phone's memory seems to be the only feasible solution. So we did it!"
The Binary USB Multi-tool device comes in a variety of colors, with an attachment that is made of flexible material. The flexible attachment means the user will never have to struggle with stiff connections when attaching their phone or smart device to their laptop. This flexible cable also makes it a lot easier for the coupling to extend over bulky phone covers and sleeves without a hassle. The Binary is compatible with iOS and Android smart devices, as well as most laptops and allows a user to plug and play seamlessly. It has a very sleek and portable design with a data cable that functions as both a charger and syncing connector.
"Apart from being able to watch more movies, save more photos and working on the go by plugging binary directly into your phones, battery life and data syncing are other advantages we've included for the urban explorer in you."
The Binary team has been hard at work since the inception of their idea. They have completed their product analysis, product design, creation of the first prototype and product testing. They are now ready to begin production which is why they have launched their crowdfunding campaign. The funds raised will be used for:  creating the final product mold, PCB fabrication, Binary USB multi-tool assembly, quality assurance standards, necessary certifications, and patent maintenance.  In an effort to encourage funders, the team is offering their Indiegogo supporters several perks. These perks, which serve as funding incentives, range in value from a "Support the Dream" perk which enables a supporter to follow the campaign, to the chance to pre-purchase various editions and sets of the Binary USB Multi-tool at a greatly reduced cost. They are also running a referral program which gives their supporters the opportunity to win a Binary for free. Full details can be found on their campaign page.
About Binary:
Binary was founded by a team of student entrepreneurs. This USB multi-tool is Binary team's first product taken into the manufacturing stage.
To learn more about the Binary USB Multi-Tool crowdfunding project Click Here
To view a video on the Binary Click Here
To contact via email write to Dharumaraj Rajah at: info@binaryindiegogo.com
Share: