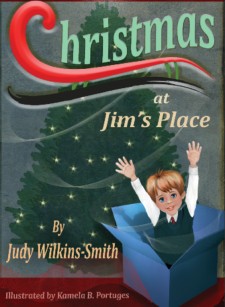 A talented team of women is crowdfunding to transform the 'Christmas at Jim's Place' book into a film that will reach a global audience.
Tyler, Texas , October 12, 2016 (Newswire.com) - ​​​​The talented team of women behind the U.S. based start-up JK Entertainment Group Inc., has launched a crowdfunding campaign on Indiegogo. This campaign has a funding goal of $50,000, which needs to be raised in order to bring the company's first project "Christmas at Jim's Place" to audiences everywhere.
"Christmas at Jim's Place", is currently a published book with a very powerful, inspirational message; but fans agree that the adventure is too big for just a book. With this in mind, the team decided to transform it into a screenplay, and take it to the big screen. The story focuses on hope, love and unity in the face of adversity and tragedy, which perfectly embodies the inspirational message that today's world in crisis needs.
Jim shows that when we offer the best of ourselves, the truly remarkable flourishes and "truly remarkable" is that little something we call magic. Creating new traditions and igniting hope and inspiration in families, we discover how our greatest tragedies can turn into life-changing miracles.

Christmas at Jim's Place, team
"Christmas at Jim's Place" was written by author JM Ashwell, who wanted to make her father's dream of being a children's book author a reality. He was tragically killed shortly after immigrating to America, followed by the tragedy of 9/11. Ashwell states that, "Christmas at Jim's Place was born due to the need to make sense of what happened, respect the loss and yet search for the bright shiny stars that get us through the worst days of our lives." She knew at that time that she had an option, she could let pain and tragedy break her, or she could rise from the ashes and soar. The author decided it was time to create a legacy of hope, and turn two disasters into something that would make a positive and lasting difference in the world. The book was written to bring "hope, joy and new traditions to a world yearning for love and a sense of community with a commonality that unites us."
The team at JK Entertainment Group has been working very diligently on all of the essential groundwork for the "Christmas at Jim's Place" film project. They have brought some amazing talent on board, including the Images in Motion Inc. studio, and award-winning illustrator & animator Kamela B. Portuges. The team is now ready to begin the film-making process, which is why they have launched their Indiegogo campaign, and hired a team of crowdfunding specialists to help them spread the word. As an added bonus with this campaign, the team is offering several perks.
These perks, which serve as funding incentives, range in value from various merchandise items, up to the benefactor level "A Night to Remember" perk that gives a supporter several valuable gifts along with "Christmas at Jim's Place" merchandise items and 4 tickets to the film premier. Full details can be found on the Indiegogo campaign page.
About JK Entertainment Group, Inc.:
JK Entertainment Group Inc. was co-founded by authors Katherine Hartvickson and Judy Wilkins-Smith (author JM Ashwell). It is a collaborative effort to bring their first project, the "Christmas at Jim's Place" book and animated movie to audiences around the world. They are both proud mothers and entrepreneurial career women who are focused on making a difference in the world by demonstrating the power of positive energy when matched with perseverance, belief and an unwavering commitment.
To learn more about the Christmas at Jim's Place crowdfunding project Click Here
For more information about Christmas at Jim's Place Click Here
To contact via email write to Heather Hartvickson at: heather@quantumascendance.com
To learn more about the team of specialists at Smart Crowdfunding Click Here
Source: JK Entertainment Group, Inc.
Share: