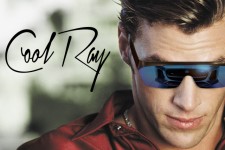 The talented team of designers at Kahuna Dezign has launched the 'CoolRay: Bone Conduction Technology at Its Best!' project on Indiegogo. The team is crowdfunding to bring their state-of-the-art CoolRay Bone Conduction Sunglasses to market.
Chicago, Illinois , June 15, 2016 (Newswire.com) - ​​​Kahuna Dezign, a Chicago based company focused on cutting edge designs, has launched a crowdfunding campaign on Indiegogo. This campaign has a funding goal of $50,000, which needs to be raised in order to bring the company's CoolRay sunglasses to market. CoolRay sunglasses are patent pending bone conduction technology sunglasses that deliver high quality design coupled with superior cutting-edge technology. The team already has a good reputation for creating outstanding products, and they raised the bar with CoolRay. They state, "We already established a solid reputation and fan following with our previous version of bone conduction sunglasses. What you are going to get is the next generation high-tech sunglasses called CoolRay which is conceived and designed from ground up to be "light years" ahead of anything out there."
CoolRay is definitely a lot more than just cool-looking sunglasses. These sunglasses offer the user increased protection for their eyes with UV 400 polarized lenses, while also allowing them to enjoy wireless CD quality sound and keep their ears open to potentially important external noises. They are Bluetooth enabled and capable of simultaneously pairing two devices at once. CoolRay features military grade ambient noise reduction as well as significant noise leakage reduction in order to create a better user experience for all CoolRay wearers. These sunglasses have flexible frames that comfortably fit nearly every face, and function as a personal secretary alerting the user to important info and reminders while screening incoming calls, answering calls, playing music, and much more. The components are IP55 enclosure protected which makes them dust, sweat, oil and water resistant; while the lenses are scratch and wear resistant. The result is a very high-quality and durable product.
"CoolRay is a step-up in innovative bone conduction technology making them very unique sunglasses that are light years ahead of other sunglasses. "

CoolRay, Team
The team at Kahuna Dezign has been working very diligently on all of the essential groundwork for CoolRay, and they are now ready to begin the process of bringing their sunglasses to market which is why they have launched their Indiegogo campaign, and hired a team of crowdfunding specialists to help them spread the word. The team is planning to initiate the full manufacturing phase after they complete final prototype testing, with a projected perk delivery timeframe of Q3-Q4 2017. As an added bonus with this campaign, the team is offering several perks. These perks, which serve as funding incentives, range in value from a "High-Five & Thank You" perk that enables a supporter to follow the campaign and receive all of the updates, to various merchandise items and the opportunity to pre-order CoolRay sunglasses at a significant savings off of regular retail pricing. Full details can be found on the Indiegogo campaign page.
About Kahuna Dezign LLC.:
Kahuna Dezign is a cutting edge hi-tech design company that is based in Chicago, and comprised of a talented group of professionals. Each member of the team has extensive experiencing in their individual fields of expertise. Their latest innovation is the CoolRay Bone Conduction sunglasses.
To learn more about the CoolRay crowdfunding project Click Here
For more information about CoolRay by Kahuna Dezign Click Here
To contact via email write to Helen Hunter at: contact@coolray.co
To learn more about the team of specialists at Smart Crowdfunding Click Here
Source: CoolRay by Kahuna Dezign
Share: