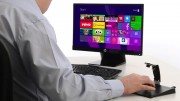 The world's most innovative trackpad is being introduced to the public via an Indiegogo crowdfunding campaign. This trackpad has the intelligence to switch from trackpad to touchscreen mode by sensing a user's needs, and automatically adapting.
Los Angeles, california, April 7, 2015 (Newswire.com) - Rafal Krepec, the founder of Canadian based Lanomat Inc., has launched a crowdfunding campaign on Indiegogo with a funding goal of $30,000. The Lanomat team launched the campaign in order to introduce their highly innovative DuoPad trackpad to the public. DuoPad is not an ordinary trackpad because it does what other trackpads can't do. Krepec says, "We have reimagined the trackpad and added a touchscreen mode that switches on automatically when using touch apps on your PC or laptop." Not only does the DuoPad offer touchscreen functionality to a user's PC or laptop, but it is intelligent enough to sense which mode a specific App requires, and automatically switch to the mode that best suits a user's needs.
DuoPad is compatible with Windows 8, 8.1, and 10; while PC and laptop owners with Windows 7 will be able to use the DuoPad after they upgrade for free to Windows 10. When in trackpad mode it functions like a standard mouse; with a touch-zone area, right click button, and left click button. In touchscreen mode it operates as conveniently as the touchscreen function on modern smartphones, tablets and pads. This aspect can lead to increased productivity as well as a more enjoyable gaming experience. DuoPad is the only trackpad on the market that has this feature. Not only have the makers created a multi-touch dual mode trackpad, but the smart aspect and graphic features take it to the next level. The creator's state, "DuoPad is amazingly accurate and responsive. Your hand gestures on its surface appear identically and simultaneously on your monitor, with no delay." The image of the hand that appears on the screen can be personalized to fit a user's personal preference.
"DuoPad is amazingly accurate and responsive!! Toggle nimbly between a traditional trackpad experience and DuoPad's touch screen mode automatically, based on your needs."

Rafal Krepec, Founder, Lanomat Inc.
Krepec and his talented team of technologists, engineers and product developers have been working very diligently over the last 2 years with a company specializing in electronics design and manufacturing. Their goal is to make DuoPad an exceptionally high quality trackpad that meets their very high standards, while still being reasonably priced. With all of the essential groundwork for their trackpad completed, the team is now ready to embark upon the next steps toward making DuoPad a reality which is why they have launched their Indiegogo campaign. Upon completion of their successful campaign the team plans on beginning the testing and certification stages, and then launching full production with a projected shipping date of December 2015. As an added bonus with this campaign, all supporters have the opportunity to pre-order the DuoPad, from a single trackpad to a distributor pack of 50, at a substantial savings off of the regular retail price. Full details can be found on their Indiegogo campaign page.
About DuoPad:
DuoPad is a product of Lanomat Inc. and was created by a skilled group of technologists, engineers and seasoned product developers who are passionate about technology. They all have extensive experience, with some members of the team having been involved in the evolution of computers since the early days of the PC.
To learn more about the DuoPad crowdfunding project Click Here
For more information about DuoPad Click Here
To contact via email write to Rafal Krepec at: rjk@lanomat.com
Share: