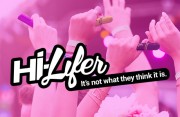 Convectium is introducing their newest product via the 'Hi-Lifer: Your Discreet Multi-Chamber Storage' project on Indiegogo. The team behind this campaign is crowdfunding to bring a truly inspired discreet storage container to market.
Los Angeles, California, February 9, 2016 (Newswire.com) - Convectium, a team of technology experts in the cannabis industry, is introducing their newest innovation to the public through a crowdfunding campaign on Indiegogo. This campaign has a funding goal of $10,000, which needs to be raised in order to bring the company's "Hi-Lifer" to market. Hi-Lifer is a discreet dual-chamber storage and transport device that allows a user to store virtually anything from dry herbs, to chewing gum, tools, matches, papers, money, batteries, liquids, oils, etc. It is small and discreet, fashioned to look like an ordinary highlighter marker. The team behind this product state, "The concept for creating the Hi-Lifer was born out of the frustration we've all felt attempting to haphazardly transport our smallest, most-prized possessions without success."
Before Hi-Lifer, people had to rely on things like baggies, pop-top pill bottles, socks, small containers, or anything they could find for storage and transport. However, many of these items either leaked or refused to stay closed, thereby spilling or damaging the contents. Hi-Lifer is a dual-chamber device that is not only small and discreet, but it is also leak proof, smell proof, and spill proof. The dual chamber allows for the simultaneous storage of both liquids and solids, without fear of cross contamination. Hi-Lifer is dishwasher safe and available in 4 colors: pink, gray, black and yellow.
" Introducing Hi-Lifer - the dual-chamber, leak-proof, smell-proof and discreet storage and transport device that allows you to carry your smallest and most treasured items from A to B without mixing, leaving a scent, or leaking."

Hi-Lifer, Team
The team at Convectium has been working very diligently on all of the essential groundwork for their Hi-Lifer. They are now ready to begin the next stages in production which is why they have launched their crowdfunding campaign and hired a team of crowdfunding specialists to help them spread the word. As an added bonus with this campaign, the team is offering several perks. These perks, which serve as funding incentives, range in value from various Hi-Lifer merchandise items, to the opportunity pre-order the Hi-Life storage container. The device can be pre-ordered in: a single Hi-Lifer, a 2-pack Double-Lifer, and a 4-pack Quad-Lifer, as well as in multiple or retail sets. The team is even offering perks that enable a supporter to go to Hollywood for the VIP Launch party, or have a voice in future colors and designs while also getting their name on the retail packaging. Full details can be found on their Indiegogo campaign page.
About Convectium:
California based Convectium are experts in the design, development and distribution of products geared toward the cannabis industry. The company utilizes some of the best product designers in the world to develop high-quality products such as: the vapes & accessories of Blackout X (now shipping to 48 countries), HazeSticks: The Jimi Hendrix Collection, the-first-of-its-kind 710Shark oil cartridge filling machine and GrayLabel design and branding division. Convectium has been in business for over two years and brings 30+ years of combined industry experience. Their newest product is the Hi-Lifer storage and transport container.
For more information about Convectium Click Here
To learn more about the Hi-Lifer crowdfunding project Click Here
For more information about Hi-Lifer Click Here
To contact via email write to Michelle Hart at: michelle@convectium.com​​
For more information about the specialists at Smart Crowdfunding
Share: