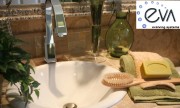 The household faucet has finally managed to join the rest of the hi-tech world because of the ingenuity of Evalving Systems and their newest creation LAVi. This inspired faucet is being introduced to the public via an Indiegogo crowdfunding campaign.
Denver, Colorado, May 14, 2015 (Newswire.com) - ​​Thanks to Evalving Systems, the standard faucet has finally been given a much needed make-over and joins the rest of the world in the modern era. This innovative faucet, "LAVi", merges basic functionality with modern technology, and is being introduced to the world via a crowdfunding campaign on Indiegogo. This campaign has a funding goal of $45,000, which needs to be raised in order to bring LAVi to market. The inspired minds behind LAVi aptly state "Unlike your phone, television, or car, you would be hard pressed to come up with a single cutting edge innovation over the last fifty years for your home faucets. The ones you have now function and look like your grandmothers." With this thought in mind, the team set out to create a faucet that was fitting the modern technological era, and LAVi was born.
LAVi is a smart faucet that is connected via Wi-Fi and can be programmed to a user's personal preferences. It is easily controlled with a wave of the hand and provides: instant hot water, auto flow control, touchless operation, a pop-out water fountain that provides cold water even when the hot water is flowing, and much more. LAVi is also equipped with safety features which include scald prevention and sink capacity awareness to prevent overflows. Most people get very frustrated while standing at the sink and wasting water, waiting for it to get hot. LAVi has solved this problem. It provides instant hot water because, "LAVi has her own under sink internal half gallon hot water tank. She checks the hot water line to see if the line actually has hot water in it ready for use and, if not, relies on her own supply." This feature, when coupled with the other innovative features on LAVi, will easily help a household conserve at least 50% of their water usage, which is great for both the environment and the water bill. LAVi is an easy "push and connect" DIY project that is available in either residential or commercial versions and comes in 250+ interchangeable colors.
"LAVi makes 50% water saving effortless. Touchless controls, instant hot water, pop-out fountain, cool!"

Stephen Gregory, Founder
The Evalving Systems team has completed all of the essential groundwork for LAVi and they are now ready to begin the next phases in development which is why they have launched their crowdfunding campaign. They plan on finalizing production details after the campaign, with a projected shipping date of March 2016. As an added bonus with this campaign the team is offering several perks. These perks, which serve as funding incentives, range in value from a "Thank You Reward" perk that enables a supporter to follow the campaign and receive all of the updates, to a LAVi t-shirt, or the opportunity to pre-order LAVi, from a single faucet to a retailer multi-pack, at a substantial saving off the regular retail price. Full details can be found on their Indiegogo campaign page.
About Evalving Systems:
Evalving Systems has been creating touchless electronic faucets since 1985. They continue to lead the way in cutting edge faucet technology. The team consists of a talented team of experienced professional inventors, electronics architects, mechanical engineers, talented visionaries, and the people who turn the ideas into working products. They have a commitment to innovative design, functionality, quality, and conservation and hold several patents and awards for their ingenuity.
To learn more about the LAVi crowdfunding project Click Here
For more information about Evalving Systems Click Here
To contact via email write to Stephen Gregory at: stephengrego@gmail.com
Share: