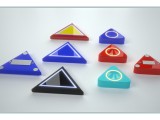 Smart Crowdfunding is slated to carry out strategic marketing initiatives for the LifeTip crowdfunding project on Indiegogo. The campaign endeavors to bring the new wearable health and wellness lifestyle device from Pragmasystems to the public.
Rome, Italy, July 17, 2014 (Newswire.com) - Pragmasystems Ltd. has created LifeTip, a new health and lifestyle device which is scheduled to be released to the public in early 2015. LifeTip is a wearable ECG monitor that attaches to your shirt or bra and helps keep track of your heartbeat, as well as other lifestyle habits and daily activities. This is a great device for people who need to monitor their heart beat for possible arrhythmia, or other health related issues, as well as for people who want to make a lifestyle change. As the creators of LifeTip state, "Attached to your shirt or your bra, it gives you serenity, monitoring your daily activities and certifying that everything is going good or warning you if not."
The three main functions of LifeTip are: ECG monitoring, body temperature, and emergency call services. LifeTip is a great device for people who are susceptible to heart problems and need to monitor their heart beat. But it is also a beneficial tool for people who want to improve their lifestyle as well, because it has several additional functions such as: a calorie counter, posture monitor, step counter, activity level, emotional state awareness, and distance tracking. Many of the functions of LifeTip will help a user maintain a more active lifestyle which naturally leads to better health, and will help them get away from the trap of being sedentary. "LifeTip is ideal for anyone who likes to look after themselves or wants to improve their lifestyle. The numerous functions performed by the device accompany and support you in your daily routine."
"Using LifeTip whilst training or during my normal daily activities would have detected an abnormal heart beat earlier because of the ECG functionality"

"Henry" , 24 year old patient
LifeTip is available in a male or female version, multiple colors, and with or without the ECG functionality. All of the different functions and features of LifeTip are controlled with a single button, which is pushed up to 3 times depending upon which function you wish to engage. It also comes with a LifeTip app which serves as a bridge between your device and your smart phone or tablet. One of its additional features is that it can even keep track of your phone proximity so that you never forget your cell phone again.
In order to bring LifeTip to market, the team at Pragmasytems has launched an Indiegogo crowdfunding campaign. This campaign has a goal of $65,000, and offers several perks as funding reward levels. These perks, which serve as great incentives for supporters, range in value from a thank you on the website to various levels of the LifeTip device. Full details can be found on their Indiegogo campaign page.
About Pragmasystems Ltd:
Pragmasystems is a London based company that was based upon the idea that "[their] success would come from [their] clients' prosperity". Because of this, the company believes in providing excellent client services and maintaining long-term positive relationships. The Pragmasystems team is a group of talented individuals, from diverse cultural backgrounds, each with their own unique skill and ability.
To learn more about the LifeTip crowdfunding project Click here
To contact via email write: Miguel Carrasco m.carrasco@proxycensus.com
Share: