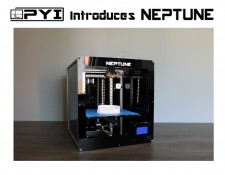 PYI introduces the world's most affordable high quality consumer 3D printer via the 'NEPTUNE - The Big and Affordable 3D Printer' project on Indiegogo. The team behind this campaign is crowdfunding to bring the inspired NEPTUNE to market.
Los Angeles, California, June 15, 2016 (Newswire.com) - PYI, a European company that specializes in manufacturing consumer 3D printers, has launched a crowdfunding campaign on Indiegogo. This campaign has a funding goal of $50,000, which needs to be raised in order to bring "NEPTUNE", the company's newest state-of-the-art 3D printer, to market. NEPTUNE is the culmination of years of market and personal research, with a focus on making it the biggest, best and most affordable consumer 3D printer on the market today. The team states, "We have been active followers of 3D printing in the past few years. After monitoring news, reading comparisons, testing different models, and discovering the many advantages and disadvantages of every single model, we realized that many of them were not worth the price they were selling it for. So, we developed the NEPTUNE which is the best you can get for your money!"
PYI very aptly stands for "Print Your Imagination", which is exactly what the team wants the public to be able to do. If a person can imagine it, they can make it. That is what the team had in mind when they created NEPTUNE. It has a high-quality and durable aluminum frame, and features auto-leveling, a print speed of 200 mm/sec, a dual extruder, heated bed, and much more, at less than half the price of its competitors. NEPTUNE arrives fully assembled and ready to print. A customer can choose to print their own designs or ideas, as well as existing designs that can be downloaded from a database filled with hundreds of creations. NEPTUNE is extremely user friendly, comes with 4 different nozzle sizes (.2 mm up to .8mm), and is capable of printing in two colors or materials in a single print. It comes with Cura Software, which is an easy to use, Open Source program that was specially modified for NEPTUNE. It also comes pre-loaded with all of the material and speed settings you need to get started. NEPTUNE was created to be suitable for users of all types, whether it is a child wanting to create a toy they designed, an engineer creating a prototype rendering or an architect creating a model for a presentation. The possibilities are endless with NEPTUNE.
"Are you young and curious about how 3D printing works and you want to explore more with your mom or dad? Are you a tech expert? Are you a designer or maybe an architect? Are you just an enthusiast who wants to play? No matter who you are, you can use NEPTUNE in many different ways."

PYI, Team
The team at PYI has been working very diligently on all of the essential groundwork for NEPTUNE and they are now ready to begin the process of bringing their 3D printer to market which is why they have launched their Indiegogo campaign, and hired a team of crowdfunding specialists to help them spread the word. They plan to initiate the manufacturing phase in November 2016, with a projected timeframe for shipping to begin in January 2017. As an added bonus with this campaign, the team is offering all supporters the amazing opportunity to pre-order NEPTUNE at a substantial savings off of regular retail pricing. Supporters can also receive various printer upgrades at a huge discount as well while the campaign is running. PYI has a fully functioning prototype, and are very optimistic that they will be able to fulfill all perks on schedule. Full details can be found on their Indiegogo campaign page.
About PYI:
PYI specializes in manufacturing consumer 3D printers and consists of a talented team of professionals who have all been enthusiastic followers of 3D printing for the last 4 years. All printers are fully assembled in Europe and must meet PYI's extremely high standards in order to carry the PYI branding.
To learn more about the NEPTUNE 3D Printer crowdfunding project Click Here
For more information about PYI Click Here
To contact via email write to Nandino Žderić at: nandino.zderic@pyi3d.com
To learn more about the team of specialists at Smart Crowdfunding Click Here
Source: PYI
Share: