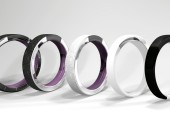 Smart Crowdfunding is slated to carry out strategic marketing initiatives for the Ritot projection watch campaign on Indiegogo. The campaign endeavors to raise funds to bring a new generation of watches to the public.
San Francisco, Calif., July 15, 2014 (Newswire.com) - Ritot, a California based company, has created the first ever projection watch which is scheduled for production later this year. This innovative timepiece uses progressive modern technology, social networking, and wireless technology to bring the next generation of watches to life. According to the makers, the reason behind Ritot is simple. "We live in a new progressive millennium; everything around us progresses and develops. In our opinion, clock design should be both technically innovative and fashionable."
The Ritot watch has a very stylish unisex design and incorporates function, fashion, and originality. In its early stages, the watch will be available in two basic designs: "sports" and "bracelet" and in the standard colors of black or white. The projected display, which works equally well both day and night, can be personalized by changing the color and nature of the projected message. You can sync your watch with your smart-phone or smart device via the Ritot app and set it to display notifications, reminders, incoming calls, text messages, social media, and a wide variety of other customized projections. "Ritot will help you to stay on top of things with vibrating notifications, messages and alerts", the makers' state. As part of the user-friendly functionality, you simply shake your wrist to dismiss a notification.
Inspired by future technologies we wanted to create a completely different, original timepiece. Ritot is the first projection watch.

Ivan, Founder of Ritot
To bring their watch to the public, the Ritot team has launched an Indiegogo crowdfunding campaign. This campaign has a target goal of $50,000, which will be used for engineering, software development, testing, manufacturing, and shipping. Supporters of this campaign have the opportunity to own one of these watches at a greatly reduced price. However, the reduced reward levels are limited in quantity on a first-come first serve basis, and disappearing fast. Full details about Ritot can be found on their campaign page.
About Ritot:
Ivan Powell is the founder of Ritot and one of the creative minds behind the concept. His team consists of designer Andrew Larson, engineer Paul Smith, and manufacturing quality control expert George Moore. Together they have created Ritot: the first projection watch. Their idea was inspired by future technology and the desire to create a completely different, original timepiece that fits into modern lifestyles.
To learn more about the Ritot crowdfunding project Click Here
For more information about the company Click Here
To contact via email write: ivan@ritot.com
Share: