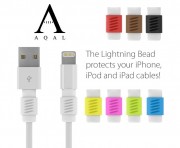 Smart Crowdfunding is slated to carry out strategic marketing initiatives for the 'Bead' campaign on Indiegogo. The team behind this campaign is crowdfunding to bring an affordable alternative to replacing expensive Lightning cables to the global market.
Los Angeles, California, July 23, 2015 (Newswire.com) - ​The creative team behind Aqal Ltd., an innovative technology company in the U.K., has launched a crowdfunding campaign on Indiegogo. This campaign has a funding goal of $15,000, which needs to be raised in order to bring the company's new product the "Bead" to market. The team describes their creation by saying, "With a simple yet elegant design, sturdy build and flawless feel, the Bead is the solution Apple users have been waiting for." The Bead is a small 2-piece device that is designed to preserve Apple Lightning or MagSafe cables before they become damaged, or break completely. New cables can be very expensive, and Lightning and MagSafe cables are very vulnerable to fraying and breaking. However, this inspired device promises to save users a lot of money by preserving these expensive cables before they can be damaged beyond repair.
The usual methods for protecting or repairing a broken cable involve tape, springs, or hard connectors. However, all of these are just temporary fixes and do nothing to actually save the cable. The Bead is a small 2-step solution that provides a more permanent fix for a broken cable, or as a preventative solution before the cables begin breaking or becoming frayed. It consists of an inner rubber sleeve which provides added durability, and an outer clip that snaps on to hold the sleeve in place.  The Bead is available in eight colors: white, yellow, pink, red, green, blue, brown, and black. In order to provide maximum protection, it simply snaps onto both ends of the cable at its most vulnerable points to protect the cable from breaking or becoming frayed.
"With the Bead, broken charging cables are now history because your Apple iPhone, iPad, iPod and Mac chargers are safe and secure. For Good."
Standard charging cables are usually designed with corrugated strain relief in order to minimize bending and to release pressure when unplugging. This design spreads the pressure out on the weakest points of the cord and prevents damage. However, Apple opted out of this preventative design, which results in cables needing to be replaced frequently. The Bead is a great option for people who do not want to waste money replacing broken cables.  Not only will this device save user's a lot of money by helping them preserve their expensive cables, but the product is fully recyclable and created using a combination of ABS and rubber that is free from all toxins and harmful substances. The team wanted to create a useful device that was also beneficial to the environment. As they say, "Think green, buy the Bead".
The team at Aqal has been very hard at work with all of the essential groundwork for their inspired Bead, and they are now ready to bring this product to market which is why they have launched their crowdfunding campaign. All supporters of this campaign have the opportunity to be one of the first people to own a Bead device at a substantial savings off of regular retail price. Supporters can pre-order either the Lightning or MagSafe Bead, from a single set to the "Ultimate Combo" perk of 50 sets of both Lightning Bead and MagSafe Bead. Full details can be found on the Indiegogo campaign page.
About Aqal Ltd.:
Aqal Ltd. consists of a group of young entrepreneurs that believe in innovative ideas focused on small things that will make life easier. It is based in Manchester, United Kingdom  
To learn more about the Bead crowdfunding project Click Here
For more information about Aqal Ltd Click Here
To contact via email write to Javed Choksi at: info@aqal.co.uk
Share: