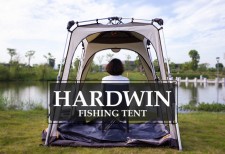 An inspired designer introduces her newest product for outdoor enthusiasts via the 'HARDWIN - Instant Fishing Tent' project on Indiegogo. The team is crowdfunding to raise the funds needed to bring the HARDWIN Fishing Tent to market.
Xiamen, China, October 19, 2016 (Newswire.com) - ​Jingjing Lu, the founder of China based start-up HARDWIN, has launched a crowdfunding campaign on Indiegogo. This campaign has a funding goal of $20,000, which needs to be raised in order to bring their flagship product, the HARDWIN Fishing Tent, to market. The HARDWIN Fishing Tent was created for outdoor enthusiasts everywhere, and is designed to be both simple and convenient, with a one touch lift-up system for quick and easy set up. The HARDWIN Fishing Tent promises to make all outdoor activities more relaxing and enjoyable. It was designed to bring the comfort of indoors to the beautiful serenity of outdoors, so nature lovers no longer need to skip that fishing trip because of the weather.
The HARDWIN Fishing Tent comes in 2 sizes: single or duo, and is both wind and water resistant. It is made with lightweight, but sturdy aluminum poles, and oxford cloth with a polyurethane coating for increased wind and water resistance. The tent features a simple locking mechanism to hold it in place after the quick and easy set-up, and has adjustable leg-poles for use on uneven terrain, which means a user will no longer have to look for a flat area to set up the tent. The tent offers 4 different shapes for added convenience and comfort: all flaps open for improved air circulation throughout the tent, only the front flap open, a top sheet for extra protection against the rain and sun, or attach the flysheet for ultimate protection against wind and rain. It is currently only available in standard jungle green, but the team plans to introduce extra color options if enough funding is raised with their campaign.
"Do you ever enjoy a Sunday fishing trip? It is a fascinating life experience, especially taking a finishing tent like this with you."

Jingjing Lu, Founder of HARDWIN
The team at HARDWIN has been working very diligently on all of the essential groundwork for their Instant Fishing Tent. They are now ready to begin the process of bringing the tent to market which is why they have launched their Indiegogo campaign, and hired a team of crowdfunding specialists to help them spread the word. All supporters of this campaign have the opportunity to pre-order the tent at a substantial savings off of regular retail pricing. The HARDWIN Fishing Tent can be pre-ordered in either size, with an expected delivery date of December 2016. Full details can be found on their Indiegogo campaign page.
About HARDWIN:
HARDWIN was founded by Jingjing Lu and is based in Xiamen, China. The team consist of a large group of outdoor fans, designers, engineers, and liberal artists. They work together to design and create innovative new products for outdoor use, as well as innovative design elements for home decorations.
To learn more about the HARDWIN Fishing Tent crowdfunding project Click Here
To contact via email write to Jingjing Lu at: ljwdada@163.com
To learn more about the team of specialists at Smart Crowdfunding Click Here
Source: HARDWIN
Share: