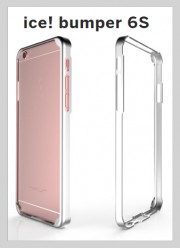 Smart Crowdfunding is slated to carry out strategic marketing initiatives for the 'Stainless steel bumper for the iPhone 6&6S' project on Indiegogo. The team behind this campaign is crowdfunding to bring a reasonably priced protective iPhone case that provides maximum protection, with minimal weight or size change, to market.
Taipei, Taiwan , October 8, 2015 (Newswire.com) - ​LimitStyle, the makers of the highly popular Lightning Saver, has launched a crowdfunding campaign on Indiegogo in order to introduce their newest innovation to the public. This campaign has a funding goal of $20,000, which needs to be raised in order to bring the company's "ice! bumper" for the iPhone 6/6s to market. They have previously released ice! for earlier versions of the iPhone, and it was a huge hit. When the newest version of the iPhone was in production, the team decided to revamp their protective bumper as well. They state, "Our team spent a year re-designing the ice! bumper after the launch of iPhone 6. The shape has evolved into a simpler form, providing a low-key and reserved style that is more mature and even easier to handle." The result is guaranteed to be a huge hit with Apple fans everywhere.
LimitStyle believes in creating truly practical solutions for everyday items. Their ice! bumper is a super-thin, ultra-light, spring stainless steel bumper that was inspired by technology used for eyeglass frames. The team states, "The frames for glasses need to be super lightweight, ultra-flexible, extremely durable and also stylish – the exact qualities needed for your iPhone protection case." The ice! bumper is only .5mm thick around the edges, with .3mm thick corner walls, and easily snaps into place. The company opted to reinforce the rounded corners of the bumper due to the fact that statistics and research revealed that 92% of initial cracking points occurred in the corners. That means that the bumper needed optimal reinforcement in these areas to offer ultimate protection. The bumper will not interfere with reception since it does not cover the antenna area, and is designed to be indiscernibly raised at the edges in order to prevent contact between the screen of the phone and the table. This helps prevent surface scratching from occurring when placing the phone down on a hard surface.
"We learned from the technology in the modern eyewear industry to design bumper for iPhone6/6s. The frames for glasses need to be super lightweight, ultra-flexible, extremely durable and also stylish - the exact qualities needed for your iPhone protection case."

ice! Bumper, Team
The team at LimitStyle has been working very diligently on all of the essential groundwork for their ice! bumper for iPhone 6/6s and they are now ready to begin the next stages in production which is why they have launched their Indiegogo campaign. As an added bonus with this campaign the team is offering several perks. These perks, which serve as funding incentives, give campaign supporters the opportunity to pre-order the bumper at a substantial savings of up to 33% off of regular retail price. The ice! bumper can be order from a single bumper, to a retailer package of 20 units. The team has a projected shipping date of December 2015, and does not foresee any problems occurring that could prevent them from achieving that goal. Full details can be found on their Indiegogo campaign page.
About LimitStyle:
LimitStyle is based in Taiwan, and was founded in September 2013 by a group of seven talented individuals with a shared vision. The team is committed to overcoming daily challenges with stylish design at affordable prices. They have several years of experience in marketing, sales, design and data analytics. One of the founders, Zac Lu was involved with the iPhone 4S and iPhone 5 design and manufacturing during his time in Foxconn. Sales manager Posen Huang contributes his expertise after five years with Panasonic. Before Lightning Saver, previous bestsellers by LimitStyle include a ladder-style soap holder and an antimicrobial toothbrush holder.
To learn more about the 'ice! bumper' crowdfunding project Click Here
To contact via email write to Zac Lu at: z@limitstyle.com
Share: