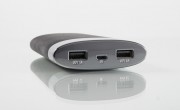 Smart Crowdfunding is slated to carry out strategic marketing initiatives for the 'Touch 15,000 mAh Battery Pack' project on Kickstarter. The campaign is raising the funds needed to bring a powerful new multi-use battery charger to the market.
Vancouver, B.C., September 2, 2014 (Newswire.com) - Touch Technologies Inc. is introducing their newest innovation via a crowdfunding campaign on Kickstarter. This campaign has a funding goal of $20,000 which needs to be raised by September 30th in order to bring the company's new invention to life. This invention is the Touch 15,000 mAh Battery Pack which uses touch technology in order to charge multiple devices anytime, and anywhere. When asked about their creation, the inventors state: "As the speed of our gadgets increases, there is one component that has seemed to flat line: battery life. There are portable batteries on the market, but none of them meet our expectations. To remedy this, we set out to create something smart, simple, and accessible to consumers."
In the modern world, we all use multiple electronic devices that rely upon battery life in order to function. This can often be a problem in our hectic lives. Finding a charger and a place to charge our cell phones, iPods, iPads, etc. is often a frustrating task. This becomes easier with the Touch 15,000 mAh Battery Pack. The Touch works by using a very high powered lithium ion polymer battery, and can charge multiple devices with a single charge. It has a very sleek and lightweight design and works with most major smartphones and tablets such as: Apple, Samsung, Google, HTC, LG, Sony, Blackberry, and Amazon.
"The Touch charges multiple devices, over and over again with a single charge. Light weight and elegant design."

Manvir Singh, Founder
Most preliminary work has been done with the Touch 15,000 mAh Battery Pack. Prior to launch Touch Technologies Inc. completed market research, established manufacturing partners in China, completed IC board design and testing, selected the best lithium ion polymer battery, finalized the mold design, and completed general product testing. The team is now ready to move on to the next step which is why they are reaching out to the public with their crowdfunding campaign. As an added bonus to all potential supporters Touch Technologies is offering several reward levels to their contributors. These funding rewards range in value from a Facebook and Twitter thank you, to multiple early bird pre-purchase specials, and various pre-purchase packages from a single battery pack, to a couples or family package. Full details can be found on their Kickstarter campaign page.
About Touch Technologies, Inc.:
Touch Technologies Inc. was founded by Manvir and John who have been creating and solving problems together for the last 10 years. They are both in the engineering and computer technology field, and describe themselves as jack-of-all-trades designers.
To learn more about the Touch 15,000 mAh Battery Pack crowdfunding project Click Here
To contact via email write to Manvir Singh at: sunny86@shaw.ca
Share: