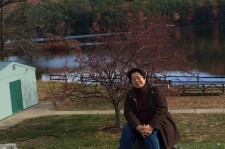 Marita Rosado is reaching out for help via her 'Spine Tumor Procedure' project on GoFundMe. This campaign was launched to raise the funds needed for a very costly medical procedure as well as her ongoing physical therapy.
New York City, NY , November 2, 2016 (Newswire.com) - ​Marita Rosado, referred to as Tata by her close circle of friends and family, has launched a crowdfunding campaign on GoFundMe for an urgent medical need. This campaign has a funding goal of $75,000, which needs to be raised in order to receive medical treatment for a spinal tumor that is threatening her livelihood and mobility. This problem occurred when she hurt herself by lifting too many heavy files while visiting clients during her work as a field accountant. As a result, Rosado injured her left upper side, resulting in a pinched nerve that developed into a cervical spine tumor on her C-4 vertebrae. This injury has caused paralysis from the left side of her neck down to her left arm. If she does not get the treatment she requires, her condition will continue to deteriorate until the paralysis becomes irreversible.
Shortly after the injury occurred, Rosado changed her career from accountant to business coach. However, due to the injury, she is going through some serious challenges during the career transition and cannot put in the hours required. The doctor has advised her that expensive physical therapy will continue to be needed in order to control the issue, and she needs to have a spine tumor procedure that will enable her to live a full and pain free life again. She is desperate to have the procedure, and continue with her treatments, however due to medical bills and the fact that she cannot work full-time with her medical problems, her cash flow is very limited. This problem is made worse by the fact that she lost her medical insurance when her income decreased. As everyone knows, medical care of any type is extremely expensive in the US, so she is reaching out for help.
"I hurt myself by lifting too many files when I visited my clients. Now I am very limited to generate income to cover my medical costs. I am very worried because I need to have my procedure soon to avoid paralysis on my left side."

Marita Rosado, Campaign Owner
Rosado is hoping that she will be able to raise the funds needed for her medical procedure through the generosity of the crowd on GoFundMe, which is why she launched her campaign and hired a team of crowdfunding specialists to help her spread the word. As an extra special thank you, she is offering all of her generous supporters a variety of her accounting services free of charge. Depending upon the level of their generous donation, she is offering a choice of the following: 1 year of bookkeeping services, a 1-time filing of personal income taxes, or a 1-time filing of a supporter's business tax returns. Full details can be found on her GoFundMe campaign page.
About Marita Rosado:
Marita Rosado began her career as a CPA (certified public accountant). She spent over twenty years as an accountant working with a variety of industries such as publishing, investment banking, public accounting, media, IT services, advertising, retail and wholesale apparel, and more. She now wants to share what she's learned through her own personal experiences and struggles in order to help and empower others through life coaching. She founded Green Star Coaching to bring her knowledge and experience to people everywhere. She wants to help her clients tap into their own inner strength and focus on reaching their goals.
To learn more about Marita's crowdfunding project Click Here
For more information about Marita Click Here
To contact via email write to Marita Rosado at: maritar88@yahoo.com
Source: Marita Rosado
Share: